You wouldn't guess it to look at me, but I have a deep, dark secret. I...Michael...love...Disneyland! If you gauged me somewhere on the Mickey Mouse-o-Meter I'd range somewhere between the casual park visitor, to someone who never leaves home without donning their mouse ears even when doing their grocery shopping. A scavenger hunt through my room would uncover my own set of ears, an extra large stuffed pair of four fingered hands, my Disneyland annual pass with a goofy picture, and a "Pirates of the Caribbean" lanyard with a few Disneyland-centric pins. My DVD collection also has a smattering of animated and live action classics. I have a hard time passing up new Disney DVDs, especially when those commercials start hitting televisions about how their returning to the vault never to be seen again.
I'm not crazy. I just love everything Disneyland. Where else can you relive your childhood innocence without being confused as someone with a mental handicap? I'll tell you where, no where, Disneyland is the only place. So Disneyland is where I go with my equally Disneyana-nut girlfriend, and we wander every inch of Disneyland from the Mickey Mouse parking structure to Splash Mountain and back again. In fact the only place we were unable to go without leaving the boat on "It's A Small World" to dance among the children of Holland, was Club 33. Never heard of it? Let me explain.
Walt Disney had Club 33 built as a place to entertain VIPs without having to leave Disneyland. It was to be a fine dining establishment where Gorbachev could have something other then a churro in surroundings befitting both Disney's sense of fantasy and his guest's upscale taste. Sadly Walt died before it's completion, and Club 33 is now only open to the less than 500 individuals and corporations who pay thousands of dollars yearly to keep those membership cards alive. They are non-transferable even upon your death, so don't start planning your best friends demise just yet. For the average park goer their only fast pass is to get a spot on the 5-year plus waiting list (which is now closed), or, by invitation from one of its current limited members. You can understand why I assumed the only way I'd ever make it in was by breaking into the film industry and getting an invite from Donald Duck. The closest I ever came was the lobby of Club 33 on a special tour of Disneyland, and even that was further then most make it.
God must have decided he owed me one, because I found my way out of the lobby and up its glass elevator sooner then I thought possible. Thank you God for introducing me to KevinEats. A fellow food blogger who I was introduced to at a FoodDigger sponsored event who happened to be visiting Club 33 for his third time, and who thought I could squeak in as his guest. Thank you God, thank you Kevin, and thank you FoodDigger for bringing us together. But enough with all this schmaltz, onto the review!
The entrance to Club 33 is easy to find and just as easy to miss. Park goers pass by it all day long not realizing that behind a faint green door between "The Blue Bayou" and a gift shop is anything worth noting. To them it's just another door in New Orleans Square that is more for aesthetic then anything else. It's only those that linger waiting for dinner at a neighboring restaurant who wonder where the well dressed couple just emerged from.
Assuming you have a reservation and are not just playing ding-dong-ditch, ringing the bell alongside the door will admit you to a very small lobby with a front desk attendant, an imported glass elevator, and a carpeted staircase. Heading upstairs is the entire dining facility complete with two dining rooms and a well stocked bar. My initial thrill came with just being able to climb aboard the elevator and ascending upwards. On my previous visit I had stood here and wondered if I could get away with slamming the door shut and pushing the button, but I restrained myself and held out hope for the future.
Finally upstairs my dining party and I were seated in the more exciting of the two rooms, "The Trophy Room." From the name you may be imagining a space brim with shiny mementos of Walt's achievements, but these trophies littering the dark wooden walls follow a different definition of the word. Think safari: stuffed animal heads (Bambi wasn't thankfully not present), large ivory tusks, and various sketches of wilderness themes. Most of the items were gifts from Walt's friends who knew of his jungle fascination.
Having taken in the room I had a chance to look at my plate. Not just any plate, a specially made Club 33 plate. According to the waiter there are only 200 in existence at $180 a pop, and none of them are for sale. Believe me I was glad to find out that these were not the plates we were going to be eating on. The last thing I needed was to be put in Disneyland jail for breaking a dish at Club 33.
After some explanation of how Sunday brunch worked I was finally able to leave my chair and head off to the appetizer bar, although having been ordered by the waiter to NOT touch the desserts. You'll see why this was difficult later.
Down a short hall and next to the bar was the appetizer station situated parallel to the desserts. I got in line, grabbed a plate (no 33 on this one), and started spooning various items.
Many visits to Souplantation had prepared me for this day so I was ready. I didn't want to overdo it and completely miss out on the meals finale, so I took only what looked interested or to hard to pass up. Back at the table my final plate tally included macaroni salad, caesar salad, thinly sliced salmon, lobsters claws, a lobster tail, shrimp, balsamic marinated tomatoes, grilled vegetables, and a piece of walnut bread.
Out of all these items the real stars were all the seafood items, minus the lobster tail. That had a much stronger shell to meat ratio so I quickly abandoned any attempts for meat extraction. All of the seafood however was fresh, clean, and had a worthy bite. The salads and bread were nothing to extraordinary, although I did like the creamy and tangy macaroni salad. The vegetables were rather tasteless so I passed on finishing those. With a little more room left to spare I did go back to snatch up some more seafood.
Plate cleaned and speedily removed, my entree of a pre-selected new york steak with kennebec fries and curried banana ketchup arrived.  
My dining companions opted for either the alaskan halibut with meyer lemon risotto and minted tabouleh, or the pan roasted chicken with a mac and cheese croquette and pickled sweet carrots. No one ordered the pastas three by three so I'll forever wonder what that looked like.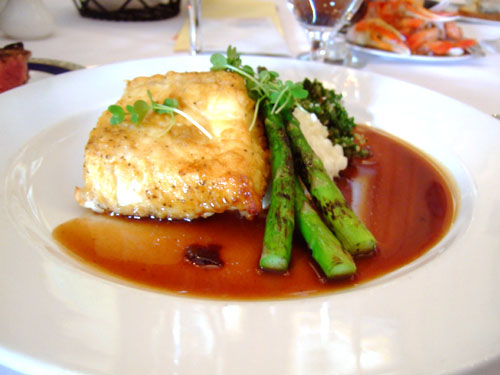 Cutting into my steak it occurred to me I was never given the option of selecting how I'd like my steak cooked, a big no-no in my book especially at Club 33 prices. I'm a man who likes his steak medium rare and this cow was cooked closer to medium. To me a steak cooked this way is like a clown with no sense of humor, boring. Thankfully it wasn't cooked well done. That's like a clown buried 6-feet under with no one coming to the funeral, sad and pathetic.
Club 33 is not a steak house, and I wasn't expecting CUT quality beef, but they could certainly do better then a poorly presented steak. The sides were no big thrill either, consisting of bland undercooked french fries that were made only more terrible by banana ketchup. I had never heard of this fruit combination before, but apparently banana ketchup (aka banana sauce) is wildly popular in the Philippines as a fried chicken condiment. Personally I think I'll be sticking to my tried and true bottle of Heinz in the future. Can you imagine plopping down on a stool at the Apple Pan and dipping a fry in banana ketchup? I think the place would crumble under the shear weight of that crazy thought.
I did have a chance to try the other entrees nearby, out of which I enjoyed the chicken the most. Crispy skin, juicy interior, it's only downfall were the sides: a dry macaroni and cheese croquet and marinated carrots. The fish was so-so but I'd order that before ordering the steak again. Come to think of it the best entree I saw zoom by the table was going to a child behind me who ordered an angus cheeseburger, although it did come with those nasty fries and ketchup. Poor kid didn't know what was coming to him.
Feeling a bit deflated I looked towards the dessert bar as my savior. I shuffled over and filled two plates, returning to my seat in hopes of something uplifting.
The first piece I bit into was the macaroon, and like magic, Zip A De Do Da began to play in my head. Ah sweet return! Club 33 is known for doing these well, and done well they did. I grew up in a Jewish household with many a macaroon, and these were some of the best I'd ever had. Continuing clockwise around the plate with names lost to me now there were other worthwhile mentions.
The purple blackberry tart had a strong blackberry flavor and was very enjoyable. It was my second favorite dessert. The white stick was white chocolate and needs no further description. The brown hat looking thing was a cookie with a sort of chocolate mouse. It had a crunchy creamy texture (a combo I love) and was very pleasant. Next up was a forgettable fruit based cake and a nice and airy chocolate one.
On the second plate starting at the top and again moving clockwise is the panna cotta atop a raspberry fruit gelatin. I thought it would be similar to a dessert shooter but in the end had to be eaten with a spoon. The texture of gelatin to cream didn't work for me so I quickly moved on to the yellow lemon cream puff. Now I love lemon but this was overpoweringly lemon. Toned down I'm sure this one would be a winner. Next up I had a brownie topped with cream and peppermint, and a chocolate cup with a cake I now forget. Both were certainly good but not outstanding. Down to the final two I had the mango cake and some sort of tea cake. I'm not normally wild about mango but this was very good. The second cake was dense and buttery with a faint almond taste. On it's own this is decent, but when compared to everything else it's pretty much bottom rung.
I grabbed this s'more cup early when told by the waiter only a certain amount are made each day and they do run out. While a dessert involving the idea of a s'more is enticing, in execution it's completely bland. Imagine a cup with a few marshmallows, graham pieces, and chocolate syrup and you have this down to a "T." I could do that at home with better results. By far this was the largest disappointment dessert wise.
So there you have it. Club 33 from beginning to end.
I stood from my chair on shaky sugar high legs with a full stomach and took one last look around the room. Even with an entree I'd rather not remember I was happy to be here and I'd gladly return. The entire experience from the lobby, to the safari decorated room, to the appetizers and desserts, they were all worth the effort it took to get here. I had wanted to come here for so long and had high expectations. It may not have been perfect, but I got to stand in a dining room and take a picture with Mickey Mouse and Pluto, I got to take part in a place full of Disney history that most only dare dream of ever making it to. If you're one of the many sitting on a waiting list don't lose hope, and don't take anything negative I said in this review as a reason to leave your spot. If you're someone who loves Disneyland as much as I do then you'll love Club 33, I promise. Just remember to order the chicken the chicken or bring a child and steal his burger.
I leave you with a parting shot of my view into New Orleans square from a hallway window in Club 33.
-----
Club 33 (in Disneyland
1313 S. Harbor Blvd.
Anaheim, CA. 92803
Unofficial Homepage